CHEMICAL STRUCTURE: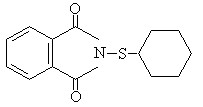 CHEMICAL NAME: N-TCyclohexy(thio)phthalimide
MOLECULAR FORMULA: C14H15O2SN
MOLECULAR WEIGHT: 261.34
CAS NO.: 17796-82-6
PROPERTIES:
White crystal/granule. Density is 1.25-1.35.
Soluble in acetone, benzene, toluol, diethyl ether, ethyl acetate, bot CCI4 and hot alcohol, slightly soluble in gasoline. Insoluble in derosene and water.
APPLICATION:
Pre-vulcanisation inhabitor. Provide predictable scorch control in most sulphur valcanisation. Improved cost performance through marginal stock recovery, single-stage mixing, higher processing and/or curing temperatures, activity is linear and higher than most retarders. May cause bloom above 0.5phr.
It is anti-scorching agent for both natural and synthetic rubber.
QUALITY STANDARD:
ITEM

POWDER

OILED POWDER

GRANULE

appearance

White crystal (granule)

initial melting point

90.0℃ min

90.0℃ min

90.0℃ min

loss on drying

0.30% max

0.50% max

0.30% max

ash

0.10% max

0.10% max

0.10% max

residue on 840μm sieve

0.00%

0.00%

/

additive

/

0.1%-2.0%

/

granule diameter

/

/

2.50mm
PACKING & LOADING:
Packed in Kraft paper bags of 25kgs net each with P.E. liner inside
12Mt per 20'GP, 24Mt per 40'GP, palletized.
SHIPPING MARKS: Neutral export standard. Also can be customized.
STORAGE VALIDITY: 1 year.